In the northern depths of the Hashemite Kingdom of Jordan, attention is directed to one of the most wonderful natural aspects of this charming country, which is Ajloun Forest Reserve. This reserve is considered one of the wonderful tourist destinations in Jordan, as it combines the beauty of stunning nature and rich cultural heritage in an incomparable way. This reserve constitutes a unique natural paradise, with dense forests mixed with wooded valleys and lush green orchards, giving visitors the opportunity to explore one of the most diverse sites in the environment. In this article we will learn about and how to reserve the Ajloun Forest Reserve.
When you step into the grounds of the Ajloun Forest Reserve, you will feel the magic and peace that emanates from this enchanting natural world. With an area of ​​about 13 square kilometers, the reserve is characterized by exceptional environmental diversity, as it is surrounded by oak, pine, carob, wild strawberry, and wild pistachio trees. These trees are not only a source of firewood and woody materials but are also valued as a picturesque landscape rich in medicinal and nutritional properties.
Historically, the city of Ajloun has witnessed the settlement of multiple human civilizations throughout the ages, thanks to its moderate climate, dense forests, and fertile soil. These historical riches are clearly evident in the archaeological sites scattered in the forests and neighboring villages, making a visit to the Ajloun Forest Reserve also an opportunity to explore the cultural heritage of this region.
But Ajloun Forest Reserve is not just a place of history and nature, it is a living experience that offers visitors an exceptional opportunity to enjoy the natural environment and outdoor adventures. Through this article, we will take you on an enjoyable exploratory journey through the most beautiful things that the Ajloun Forest Reserve has to offer, from hiking adventures to enjoying the most delicious local dishes and learning how to book to explore this magical world.
How to reserve Ajloun Forest Reserve.
If you are planning to visit Ajloun Forest Reserve and want to enjoy a unique tourist experience in this wonderful location, it is very important that you know how to book. Although online booking is not currently available, you can easily do so by filling out the available booking form or calling Wild Jordan Adventures on 06 4616523 for urgent bookings and inquiries.
Fill out the reservation form: You can start the reservation process by filling out the reservation form available on the Ajloun Forest Reserve website. You will need to provide the necessary information such as your name, contact information, and the number of people who will be participating in the tour.
Booking confirmation: After filling out the form, the Ajloun Forest Reserve team will review the request and verify the availability of the requested appointments. You will be contacted via email within 24 hours to confirm your reservation and provide further details.
Payment: Reservations usually require a deposit or reservation fee. You must provide the information required to complete the payment, based on the instructions you will receive in the confirmation email.
Preparing for your trip: Once your booking is confirmed, you will receive full details of your chosen tour or experience. You will know the start and end times and any additional information about scheduled activities.
Inquiries and communication: If you have any additional inquiries or need more information, you can contact the Jordan Wild Adventures team at the number mentioned above. They will be happy to assist you and answer all your questions.
This way, you can prepare for your trip to Ajloun Forest Reserve with confidence and ease. Remember, booking in advance helps ensure a comfortable experience and your enjoyment of the utmost luxury in this wonderful tourist location.
Tourist trails in Ajloun Forest Reserve.
Ajloun Forest Reserve is an exceptional tourist destination that offers visitors a variety of amazing tourist trails, allowing them to explore this wild and natural world in the best ways. Here is an overview of some of the distinctive tourist trails available in the reserve:
Tawny Deer Trail: If you love nature walks, the Tawny Deer Trail is an ideal choice. This trail is about 2 kilometers long and is one of the easy trails that you can do easily. You can enjoy stunning scenery and visit an ancient stone grape press along the way.
Arjan Village Trail: If you want a unique experience to discover the local rural lifestyle, this moderate trail is about 12 kilometers long and takes you through the wooded valleys and green orchards of Arjan Village. You can see poplar trees and rock retaining walls that protect farmers' orchards.
Rason Trail: This intermediate trail extends for 6-7 kilometers and starts from the reserve's visitor center. This trail takes you on a walking journey past the ruins of an old wine press and the oldest maple trees in the reserve. You can also visit Rason village and explore its traditions.
Floral Felds Trail: If you're interested in wild plants and mountain hiking, this intermediate trail will suit you. It is about 8 kilometers long and can take 3-4 hours to complete. You can view pink labradorite flowers and enjoy beautiful views of the surroundings.
Maralias Trail: This medium trail is 8.5 kilometers long and takes you to the ruins of Maralias Church, one of the oldest churches in Jordan. This trail allows you to explore fig and pear orchards, forests and meadows full of flowers.
Ajloun Castle Trail: If you are looking for a bigger challenge, Ajloun Castle Trail is the right trail. It extends over a distance of 18 kilometers and takes you from the small farm house to the historic Ajloun Castle. You can enjoy stunning views and see the stunning castle.
These are some of the amazing tourist trails available in Ajloun Forest Reserve. Each itinerary offers a unique experience and the opportunity to explore the local nature and culture of this beautiful region. These trails will be an opportunity to connect with nature and enjoy the tranquility and beauty that the Ajloun Forest Reserve has to offer.
Huts in Ajloun Forest Reserve.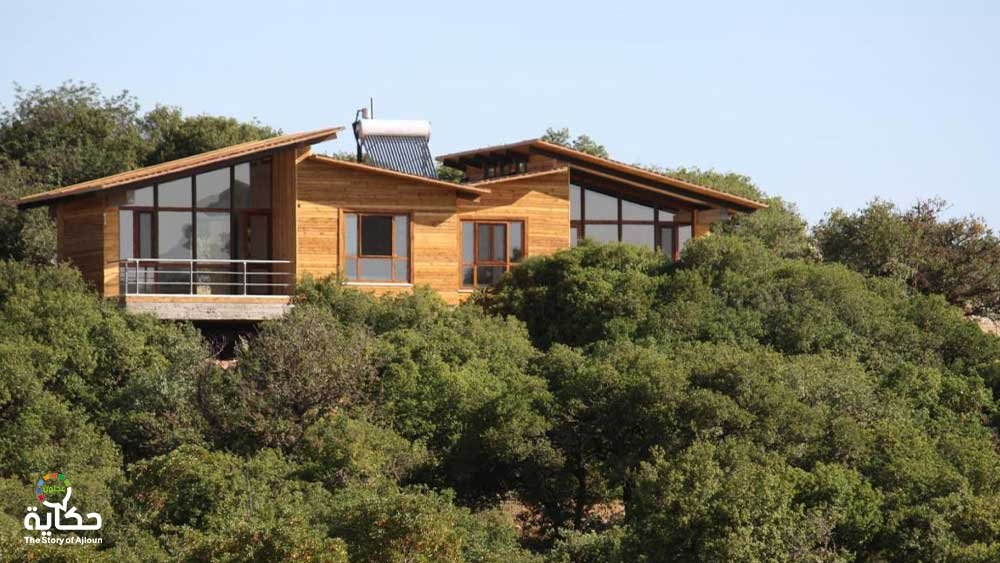 In the heart of the Ajloun Forest Reserve, the wonderful wooden huts of Ajloun are spread among the dense pine and oak trees amidst the charming landscape. The presence of these huts makes your visit to the reserve an exceptional and unique experience. Each cabin is designed with innovation and care to provide visitors with the highest level of comfort and relaxation in the heart of wild nature.
These cottages are distinguished by their beautiful and comfortable designs, and provide all the modern amenities you might need. Each hut is equipped with a private bathroom and a wooden balcony overlooking stunning views of the surrounding forests, giving you the opportunity to enjoy the fresh air and watch the sunrise and sunset at different times of the day. Visitors can enjoy food and drinks at the reserve's restaurant, which serves homemade dishes inspired by local and traditional cuisine.
Staying in these huts brings relaxation and tranquility, as visitors can get away from the hustle and bustle of daily life and immerse themselves in the beauty of the nature surrounding them. You will feel deeply connected to the natural environment and cultural heritage of this region by staying in these unique places. The huts in the Ajloun Forest Reserve reflect the philosophy of environmental and sustainable tourism, providing visitors with the opportunity to enjoy nature with minimal environmental impact and maximum comfort.
In short, the huts in the Ajloun Forest Reserve provide visitors with a unique and comfortable experience to enjoy the beauty of nature and relax in a quiet and distinctive atmosphere. It is a natural haven that combines luxury and a wild environment, making it an ideal destination for travelers looking for a unique and distinctive tourist experience.
The most frequently asked questions about Ajloun Forest Reserve.
What is in Ajloun Forest Reserve?
Ajloun Forest Reserve is an exceptional natural destination characterized by its unique environmental and biological diversity, where visitors can enjoy a variety of natural and cultural attractions and activities. Dense forests and stunning views are the prominent feature of this reserve, and what distinguishes it even more is the presence of a variety of wild plants and animals that live in this natural environment.
Notable features of the nature reserve include oak, pine, carob, wild strawberry and wild pistachio trees, which form an essential part of the region's ecosystem. These trees are not only important for the environment and ecological balance, but are also an important source of natural materials such as firewood, food and traditional plant medicines.
In addition to the dense forests, the Ajloun Forest Reserve contains archaeological remains dating back to different eras, where visitors can explore the archaeological sites scattered in the forests and neighboring villages. The presence of these historical monuments reflects ancient settlement in the area due to its moderate climate and diverse terrain.
As for wildlife, Ajloun Forest Reserve is home to many amazing wildlife, including rare animals such as the striped hyena, beech porcupine and crested porcupine. These animals decorate the landscape and enhance the visitors' experience.
In the spring season, the reserve blooms with beautiful wild flowers such as anemones and rock roses, making it an ideal destination for nature lovers and photography enthusiasts.
In addition, visitors can enjoy the amazing tourist trails that extend through the reserve and allow them to discover this unique natural environment. These trails include stunning landscapes and natural and cultural monuments that enrich the visitors' experience.
In short, Ajloun Forest Reserve combines environmental, cultural, and biological diversity, making it a wonderful destination for visitors looking for a unique natural experience and exploring the beauty, environmental richness, and rich history that this charming environment holds.
When was Ajloun Forest Reserve established?
Ajloun Forest Reserve was established in 1987. It was established with the aim of preserving the environmental diversity in the region and preserving its dense forests and natural resources. This reserve is considered one of the important environmental sites in the Hashemite Kingdom of Jordan and plays a major role in preserving wildlife and the natural environment in the picturesque Ajloun region.
Animals in Ajloun Reserve.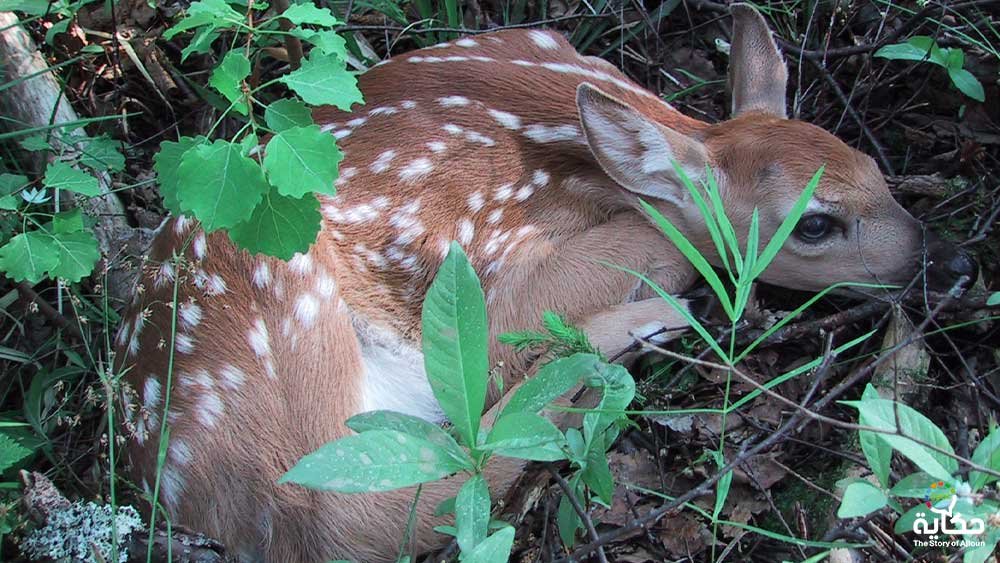 Ajloun Forest Reserve is home to a variety of wild animals that live in this lush natural environment. Among the animals that can be seen in the reserve include:
Striped Hyena (Caracal): The striped hyena is one of the most prominent predatory mammals in the reserve. It is a rare and beautiful animal characterized by its graceful body and long ears.
Beech martens (Hyena): Beeches live in the reserve and are social animals that are usually found in groups called herds.
Crested Porcupine (Striped Hyena): Similar in shape to a giraffe, the Crested Porcupine is an active, nocturnal animal that can sometimes be seen in the reserve.
Deer: A population of deer live in the reserve, and they are among the most common mammals in the area.
Rabbits and Rodents: The reserve includes a variety of rabbits and small rodents that play an important role in the wild environment.
Birds: There are many species of birds in the reserve, including eagles, hawks, swans, pigeons, sparrows and crows.
Reptiles: In addition to mammals and birds, the reserve includes many reptiles such as lizards and snakes.
Insects: The reserve is home to many insects that play a role in the balance of the ecosystem.
It should be noted that some of these animals are best seen during specific time periods of the day, such as early morning or evening, as the animals are most active at these times. Ajloun Forest Reserve provides an excellent opportunity for viewers to explore and observe these wild animals and enjoy an exciting natural experience.